Interesting times ahead – the Console space finally collides with the Social Virtual World space as Sony and Microsoft race to be first to offer non-closed beta, 'social (read: commercial) virtual world' front ends to their 'trojan horse' consoles. Will they start to reap the benefits of a very large installed user base as both are likely to launch this side of Christmas in several international territories, and will they fly?
Both the Social World front end and the DIY games components (LittleBigPlanet and Buko) of these consoles have tremendous impact potential due to the massive installed base. As at the end of 2008 we are looking at PS3, XBox360 and Wii have a potential 'Console Social Virtual World' user base of 100 million! Compare that to the 1.5 million Second Lifers or even the 12 million WoW addicts…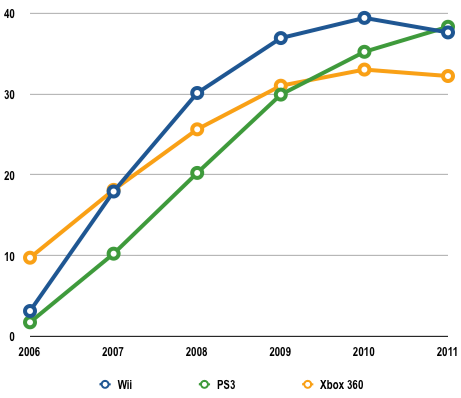 The report from International Tribune about the two new 'social worlds-in-your-console' rivals, XBox New Experience (launching Nov 19) and Sony's PS3 Home, suggests that Sony has cried wolf too many times. Sony have over-delayed the launch and are probably are trying to start out too big (vs the lower rez, cartoony avatars we see in the Wii [Miis]) and now the XBox equivalent, image above.
…Hirokazu Hamamura, a game expert and head of Japanese publisher Enterbrain Inc., who was at the Sony booth, said he needs to see more to assess "Home." "You still can't tell what it's all about," he told The Associated Press, adding that "Home" may be coming a little late compared to rivals. "There are so many more possibilities for a virtual community."
The NewXBoxExperience (NXE as it shall be now known) on the other hand has much more accessible friendly 'toons' which are very simple characters representing you in the basic XBoxLive interface. As I mentioned the interaction is likely to be similar to that on the Wii and Animal Crossing Wii also about to launch looks interesting too in this regards. But NXE will likely put off some of the hardcore gamers who don't want to be represented by Simpson's like avatars with minimal options to customise/personalize and make them their own? But is this just a half baked attempt at encouraging more group/tribal 'mall' type interaction to get folk to watch more of those 'netflix' (one of XBox's live partners) videos or peer pressure to play/purchase online games they wouldn't normally play? One think I do like the idea of is layering groups of avatars over full screen movies, so they can 'play/chat/critique' but I suspect the studios will put pressure on Microsoft to not allow that. We shall see. Other key partners in the NXE include Netflix, USA Network, MGM, NBC Universal, Universal Studios Home Entertainment and the SCI FI Channel.
The other big question is how to 'really' commercialise these spaces vs just incrementally increasing sales of existing product, like videos, within the portal. It is one thing getting your massive online user base to create an avatar and hang out with their friends in an abstract 'exhibition' hall while clicking (with a TV remote) on buy-me items like videos and other online games as in NXE but another to draw them in to having their own 'pad' as the case in PS3Home.
Having a persistent place to call your own produces, like Second Life, a big increase in user hours (for those who stick with it!) approaching 50 hours per week in the social space. This also brings with it the desire to purchase 'virtual life' enhancements (show-off pixel products) and the whole thing turns into aspirational lifestyle marketing on the Home side vs a 3D 'TV-catalogue' world on the NXE side. The next question is advertising during your social console moments. Both Home and NXE worlds will have a spattering of environmental or portal advertising from the outset and it will be great to see some contextual ads in there vs generic billboard equivalents. I would hope that Sony or Microsoft don't go it alone here (even with Massive's involvement with MS) and that they do adopt the expertise of the worlds largest advertising corporation Google.
So with Google moving into the fray with adsense now being delivered into online games reported by Reuters if brands don't reach the gamers in the social front end worlds then they have another chance in the games themselves. Google are keen to point out the benefits they offer marketeers here A selection:
Drive your brand: In-game ads have been shown to drive brand familiarity and consideration by significant percentages*
…and have the option for custom sponsorships and integrations: In addition to the media buy you make directly with Google, your Google sales representative can connect you directly with publishing partners for deeper integrations.
Reach the new generation of social gamer: The face of online gaming is changing to include users of all ages, backgrounds, and interests. Get your brand in front of users on the largest social networks, including MySpace, Facebook, and sites across the web.
OK they are starting with simple flash games and SocioNet widgets but they have their sights on traditional online games as it says in the Reuters report they are working with Konami and Sony and a few other key partners are already listed on their Adsense in Games site. (It is interesting to note also that Google are kicking advertisers into action with other initiatives including text ads in Google Maps/Earth and YouTube click-to-buy buttons – both reported by TechCrunch).
But back to the ingame advertising which if done right and using dynamic behavioural and personalised targeted techniques will indeed be a significant step forward for marketeers who are just getting their heads around basic social media. One big hurdle to come though is the old walled garden product/service vs open field product/service – you have lots of great ingame ads pointing to limited content in say NXE or Home Walled Gardens vs the potential of wandering around Halo 3 or Far Cry 2 and being able to purchase the 'book, music, film' inserted with 1-click to buy from Amazon, while STILL ingame or at least a quick hop out to the 'social virtual world portal'.
This is all about clever product placement and relating it to the game your in (see my recent post on the renaissance of hundreds of films being made of games) is both the opportunity and the real challenge (being 'sensitive' to the story world and narrative of the game). So for example making sure the latest 2008 car is not being advertised in the 2020 story world of Crysis or subscriptions to Star Trek eps on demand embedded in Star Wars Galaxies. At least the social, vanilla spaces will allow contemporary advertising without too much jarring such as in a simple 'gathering environment' like Home below…
In summary I still think NXE is a half way house, a little too old school, cable/IPTV for my liking, and that Sony have the right model in the medium/longer term by persisting with a much more sticky, immersive and larger scale social 'customisable' environment – which as we have seen for the past 4 years in Second Life will drive much more inworld commerce. I hope that PS3Home allows some 'theme'd' areas too – based on loyal fans of certain games – to the extent that the social hangout becomes almost like a TV/film green room, a place to relax outside game world but feel your with like-minds…the 3D forum becomes a reality.
Next Step – Gamer Created Games
Now lets go the next step and imagine a great deal of that inworld content is user to user created – things get really, really interesting! 🙂 (see "LittleBigPlanet: 45 minutes of boredom, then the awesome"Â  and "PS3's LittleBigPlanet births YouTube-like social game design" I will be posting much more on this 'emergent' behaviour and its commercial implications shortly!